Accessibility
Accessibility Surveys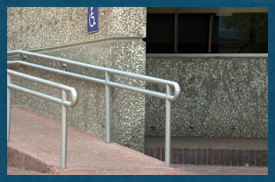 We can tailor surveys or reports for individual projects. We are approved by the State of California, Division of Real Estate, for state required accessibility surveys of leased facilities. We have surveyed over 3000 facilities. We have a broad range of experience including commercial buildings, hotels, restaurants, schools, healthcare, and civic buildings.
CASP Certification
Mr. Wood is approved by the State of California for providing CASP certifications. This program is to address accessibility compliance issues and protect building owners from accessibility lawsuits. We have a long experience with accessibility surveys, and as architects, can find cost effective solutions.
Building Alteration Drawings
We have extensive experience in all phases of architectural services. Our staff has experienced Architects, licensed in several states across the country. We often site adapt prototype projects for site specific requirements.
Multiple Facility Improvement Projects
We can administer large-scale projects that involve surveys and improvements. Past projects have included surveys or improvement roll out programs for clients such as Denny's, Bank of America, Circle/K, State of Californian DMV's, Washington Mutual, and many other national companies. We can integrate digital photos and barriers in custom databases. We have prepared alteration drawing packages for multiple sites, including digital photos to streamline the bidding and construction process.
Legal Consulting and Expert Witness Services
We have worked on many large settlement agreements involving DOJ, the State of California, City and county governments and litigation between private parties. As Architects, we typically work with the building owner to find appropriate solutions that are cost effective. We have provided expert witness services in Federal District Court and mediations. Clients have included Attorneys, Business Owners, many national corporations, cities, counties, colleges, hospitals, and the State of California Attorney General.
Accessibility Plan Review
We provide Accessibility plan review services. We are currently accessibility plan check consultants for the State of California, Division of the State Architect.